It is that special time of year once again, and you're eager to express just how important your loved one is to you. Your life simply wouldn't be complete without them, and you want to make sure they know how much you value their presence in your life. No matter how long you've been together, your l[...]
Add To Cart
Add 8 Balloons for $42.95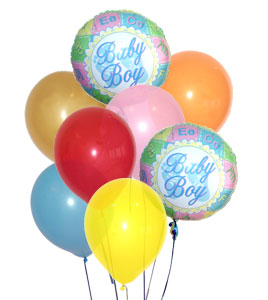 It is that special time of year once again, and you're eager to express just how important your loved one is to you. Your life simply wouldn't be complete without them, and you want to make sure they know how much you value their presence in your life. No matter how long you've been together, your l[...]
It is that special time of year once again, and you're eager to express just how important your loved one is to you. Your life simply wouldn't be complete without them, and you want to make sure they know how much you value their presence in your life. No matter how long you've been together, your l[...]
It is that special time of year once again, and you're eager to express just how important your loved one is to you. Your life simply wouldn't be complete without them, and you want to make sure they know how much you value their presence in your life. No matter how long you've been together, your love for each other only seems to grow stronger with each passing day. It is important to share this emotion with one another to ensure its long-lasting effect.

Our anniversary bouquet features long-stemmed rosebuds that symbolize the growth of your commitment, trust, and love throughout each month of the year. These flowers represent the life of your union and the completeness you bring to each other's lives. As a gift on your anniversary, these flowers will reaffirm the depth of your feelings that brought you together in the first place. So cherish this love and the continued commitment that frames your relationship through joyful times as well as testing periods.

The Enchanting Rose Bouquet is a stunning and vibrant collection of roses that proudly declares your love for your special someone. A local florist has expertly adorned the dozen mixed roses with lush greens, all delivered in a clear glass vase.

No matter when you place your order, you can trust that this colorful rose bouquet will be promptly delivered to your desired address. You won't have to worry about receiving wilted flowers, as that's a promise we're committed to keeping. With our same-day delivery option available for the Enchanting Rose Bouquet, you can bring a smile to your loved one's face with this handpicked collection of flowers.

Our local florists throughout the United States can book your Enchanting Rose Bouquet in advance or create a fresh arrangement to-order for same-day delivery. Celebrate the love that will never fade!
Item No. E4-4820
Price: $89.95